The Dress Up
There are always those few things in your closet that you tend to wear a little too often, a little too much. For reasons of comfort, style, design, whathaveyou - you just lovingly abuse that shirt, that belt, or those pair of jeans.
c u r r e n t l y i n m y c l o s e t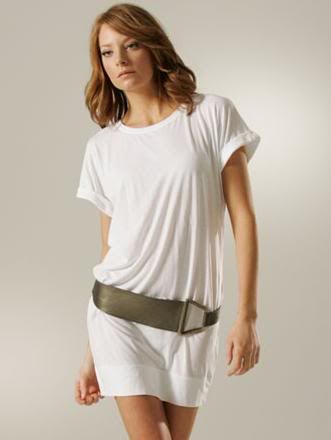 The Vince T-Shirt Dress, $48
Cotton knits and jersey material really do it for me, so as you would expect, I'm pretty big on James Perse and Vince.

How I dress it up?
Linea Pelle woven belt, Mystique sandels, Pucci headscarf, Oliver Peoples bella donna sunglasses and H&M super thin gold hoops ($1.99)
How I dress it down?
JBrand Skinny jeans or True Religion Destroyed Joeys, wooden bangles (H&M, $4.99 for a set of ALOT), Bernado leather thongs, and Linea Pelle woven belt hung low at the waist
Rachel Pally Full-Tie Tube Dress, $198
This piece is so versatile -- you can transform this dress into anything really.

How I dress it up?
As a dress. Cris-crossed in the front and worn as a halter. Gucci horse-bit clogs.
How I dress it down?
Worn as a skirt (wrapped around my waist, tied in a knot in the back allowing the straps to sway effortlessly behind). Simple black cami. Black Havaianas. Forever 21, silver plated earrings to finish.
J Brand Skinny Jeans 10", $159
The skinny on the skinny jeans. At the moment, I can't stop ranting about them.
How I dress it up? H&M off-the-shoulder babydoll, Jessica black patent leather Amy's, Rachel Leigh Earrings
How I dress it down? Vince v-neck tunic tank (loose fitting), Kurtz Army Hat, Oliver Peoples bella donnas, Coach Abbi printed python sandals.